Memoir '44 - Terrain Pack Expansion


---
From the Publisher...
From the sand dunes of North Africa to the mountain passes of Northern Italy; from the Pripet Marshes of Southern Belarus to the high ground surrounding Operation Market Garden... Prior to WWII, never before in history had a conflict been fought by so many men over such vast expanses of land and so many different terrain types.

As many of you have discovered, Memoir'44 is more than just a game, it is also a complete and expandable game system in its own right.

With this in mind, we are pleased to bring you the Memoir'44 Terrain Pack Expansion. Filled to the brim with new terrain pieces, new elite unit badges, and additional victory medals, this expansion also includes dozens of new game elements, including rules for North African warfare, minefields, big gun markers, radar stations, supply depots, airfields and more.

Our Comments...
CONTENTS
66 terrain tiles,including roads, railways, marshes, waterways, mountains, palm forests, wadis, high-ground...
22 landmark tiles, including supply depot, power plant, prisoner camp, radar station, lighthouse, airfield, barracks, cemetery, factory complex, fortress, North-African villages...
20 round markers, including 10 minefields and decoys, 5 Italian and British medals, 6 cross-hairs...
16 obstacles, including pontoons, rail and road bridges, field bunkers.
28 Special Unit badges, including engineers, partisans, North-African and Commonwealth troops, elite US, German,Italian and British units.
4 Historical scenarios showing the main new features.
Rules describing these new terrain and game elements.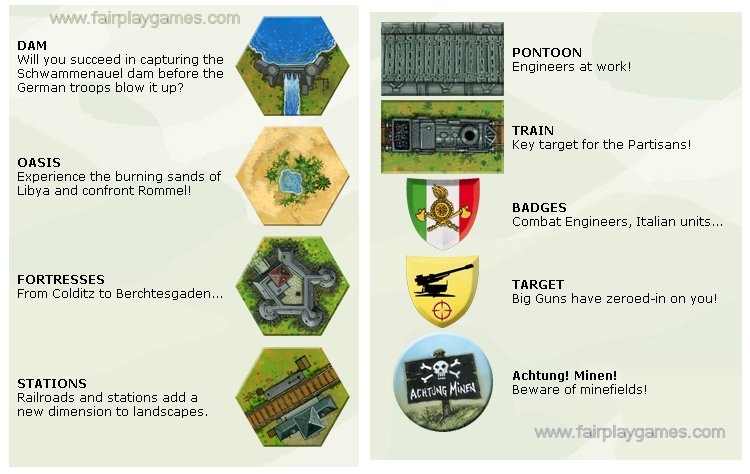 Read more information at the Board Game Geek website
Customer Raves - Write your own Rave about this game!
(Click on a person's name or game group to see other raves by the same person or group.

Chris S.

Excellent expansion! This is a "must buy" for any Memoir fan! I use the Terrain Pack in almost every game & have found it to add so much to my other expansions. Kudos to Richard Borg & Days of Wonder!
warrior - ummm
fantastic expansion, so many new awesome terrain tiles. The coolest in my opinion is the train tracks!